Vacancy - Energy Advice Worker
31st March 2021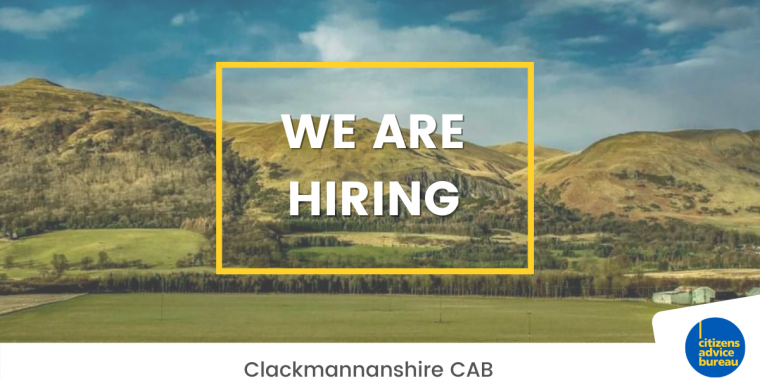 Salary: £24500-£26500 dependant on experience
Hours: 35 Hours per Week (open to job share)
Duration: 2 years + Subject to Funding
Location: Clackmannanshire CAB Alloa
Clackmannanshire Citizens Advice Bureau is delighted to have obtained further funding from the Energy Saving Trust through the Energy Redress Scheme to undertake a Local Energy Advice Project (LEAP) and is seeking an additional member of staff to join our expanding team. Clackmannanshire Bureau has over 50 years' service to the community providing free advice by our staff and volunteers on over 30000 issues in the last 12 months. We are accredited at Type iii by Scottish National Standards for advice providers for Housing, Debt and Benefits.
During the last few years we have expanded both paid and volunteer staff, have been successful in obtaining funding for a wide range of projects to assist our clients with NHS complaints, Welfare Rights representation, Energy Advice, Financial Education, Housing, Welfare Reform, Money Advice and Mental Health Money Advice as well as a wide range of smaller projects, allowing us to provide a well established holistic approach to our client's issues.
This role of LEAP Worker is funded for two years and provides an excellent opportunity based at our premises in Glebe Hall, Burgh Mews, Alloa.
We are looking for a highly motivated organised person with the drive and enthusiasm to build on the Bureau's successful track record of supporting vulnerable people facing financial hardship. The LEAP Worker will help people experiencing problems with utility services make informed decisions, control their budgets and avoid fuel poverty. In addition you will be required to oversee successful delivery of other energy related projects including supervision of staff under these projects.
The successful candidate will encompass all aspects of the role by carrying out one to one individually tailored sessions and ongoing support delivered via telephone, face to face (at CAB office and outreach locations) and home visits dependent on Covid-19 restrictions and client vulnerability. Deliver group sessions to vulnerable households and key local organisations. In addition there is a requirement to provide and maintain accurate records, provide statistical data and provide reports, as required, whilst managing their own workload as well as that of the volunteers assigned to the project. An understanding of the needs of our funders and their requirements is necessary. It is essential to maintain our close successful ties with our partners.
Applicants should be a suitably qualified worker, ideally City and Guilds accredited, be able to publicise the project and to encourage self referrals from other agencies. There is a requirement to have a knowledge of the process and understanding of project start-ups with excellent interpersonal skills as partnership working in the voluntary and statutory sectors are required.
How to apply
A full job description and person specification is available to be downloaded below. You can obtain an application pack on CAS website and return applications to Eleanor Penman no later than Monday 12th April 2021 5pm.
Email: eleanor.penman@clackscab.casonline.org.uk
Telephone: 01259 226744
Address: Clackmannanshire Citizens Advice Bureau, Glebe Hall, Burgh Mews, Alloa, FK10 1HS