Scams Awareness Fortnight
11th June 2021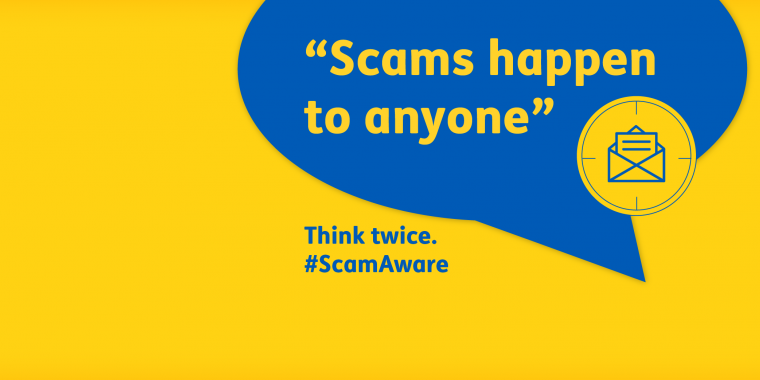 We are taking part in the annual Scams Awareness Fortnight campaign, which is running from 14 - 27 June. This campaign, which also includes Police Scotland, Trading Standards and a host of other agencies, aims to give people the skills and confidence to spot scams and report them.
We lead Citizens Advice Scotland's Scams Action service alongside Stirling CAB which has been operating since September 2019. During this time, we have seen a wide range of scams, for example cases where people have transferred money to fake bank accounts, or builders taking money to do work and then disappearing. Throughout the pandemic, we've seen the rise in online scams from text message delivery scams, fake Covid-19 vaccines to websites/texts pretending to be from HMRC offering self-employment grants. These scams are becoming more and more sophisticated.
How can I spot a scam?
Here are some of the main warning signs of scams you can look out for:
It seems too good to be true – like an email saying you've won a competition you don't remember entering
Someone you don't know contacts you unexpectedly
You're being urged to respond quickly so you don't get time to think about it or talk to family and friends
You've been asked to pay for something urgently or in an unusual way – for example by bank transfer or gift vouchers
You've been asked to give away personal information
What can I do if I think I've been scammed?
We encourage you to seek advice immediately if you think you've been scammed. There's a number of ways you can do this:
Contact Citizens Advice Scotland's Scams Action Helpline on 0808 250 5050 or the Web Chat service
Report scams to Police Scotland (dial 101)
If you get a scam email, you can forward the email to report@phishing.gov.uk
Please remember that you are not alone if you've been scammed and there is help available. The more Scam Aware we are, the less likely the scammers are to succeed.