26th October 2020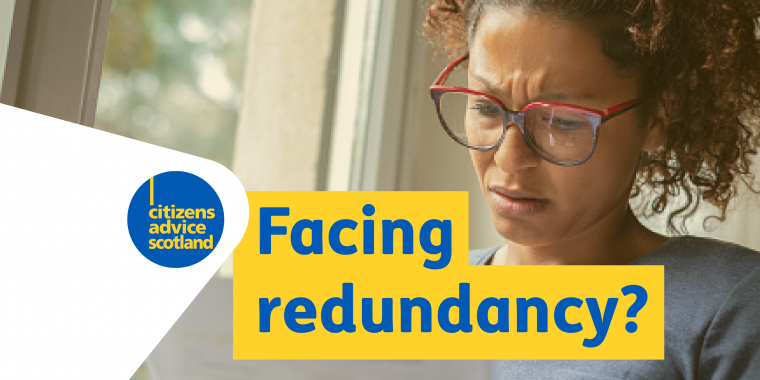 Today marks the beginning of our Redundancy Rights Campaign which will run until Friday 6th November.
Since the beginning of lockdown, we have seen a significant increase in demand for employment advice with the highest levels seen in April. The demand remains higher than average and with the furlough scheme ending while restrictions continue, we expect that demand for employment and specifically redundancy advice will increase. That is why we are taking part in the Redundancy Rights campaign.
What is the Redundancy Rights campaign?
This national campaign, organised by Citizens Advice Scotland, seeks to raise awareness of redundancy rights and encourage people to seek free, confidential and impartial advice from their local Citizens Advice Bureau if they have any concerns about their redundancy or employment rights.
Where can I find information on my redundancy rights?
The Citizens Advice online advice pages has in-depth information on redundancy, including how to check if your redundancy is fair. You can access this online via this link - https://www.citizensadvice.org.uk/scotland/work/leaving-a-job/redundancy/check-if-your-redundancy-is-fair/
Below there is also a checklist designed for this campaign of 10 key things to check when you're going through redundancy. You can download the pdf at the bottom of this page.
You can also contact us directly to speak to a trained adviser to discuss your situation, receive advice on your redundancy rights and on the next steps available to you, including applying for any financial entitlements. Contact us on 01259 219404 Monday to Friday 10 – 3 or via email.
How can I get involved in the campaign?
Unfortunately due to current restrictions, we are not holding any outreach events for this campaign. We'll be campaigning online on our social media, so be sure to follow us on Facebook or Twitter and share our posts.
We'd be grateful if you could spread the message about this campaign so we can ensure that as many people as possible are aware of their redundancy rights during these uncertain times.