16th September 2021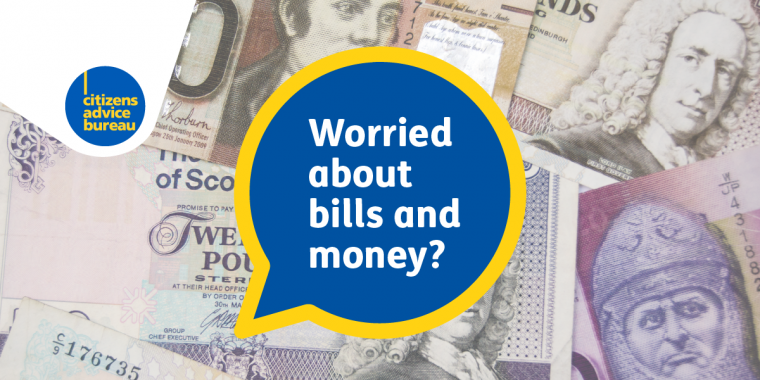 The impact of the Coronavirus pandemic has been felt throughout our community, especially the impact on people's employment and finances which has pulled people in our community into poverty or further into poverty.
Recent research from YouGov showed that around 1 in 3 of us run out of money before pay day and as we come out of the pandemic things might get even more difficult. Those who previously relied on furlough may face employment insecurities; energy price caps are about to increase; and Universal Credit will also be cut this autumn.
This is why we are taking part in Citizens Advice Scotland's 'Our Advice Adds Up' campaign which will run from Monday 20th September until Sunday 17th October.
What is the Our Advice Adds Up campaign?
The campaign aims to ensure that people are able to get the advice they need in multiple formats, e.g. through Money Map (self-help site), Advice Guide Online or through our services locally.
As part of this campaign, we will be sharing lots of information on our social media channels (Facebook and Twitter) on where/how to get advice, helpful information on reducing energy bills, council tax and support to apply for benefits.
How can I get involved?
We are aiming to reach as many people we can in Clackmannanshire so that they're aware that there is advice and support available locally which is free, confidential and impartial. In 2020/21, we provided advice to over 3,000 local residents on a range of topics including benefits, debt, energy and housing. This advice resulted in a collective £1.6 million client financial gain – which is the total amount of known financial gains through the advice given, e.g. through support to apply for particular benefits, council tax reduction.
To help us reach more people with this campaign, we'd be grateful if you engaged with any of our posts online, sharing the useful information and also mentioning to anyone offline about our services.
If you work for a local organisation, please get in touch with us. We can organise to provide more information on our services to your staff and/or volunteers and have campaign materials that we can provide to help spread the word.
Our advice truly does add up and doesn't only help with income maximisation but also has a wider positive impact, e.g. through our Welfare Rights Project, 93% of clients surveyed noticed an improvement in their well-being after receiving support to challenge benefits decisions.
How can I contact you for advice?
We're here for you and our community – please don't hesitate to contact us. The best way to contact us is on 01259 219404, Monday to Friday 10 – 3, to speak with our receptionists to take down your details and then for an adviser to return your call. You can also email us and we will get back in contact to ask for more information and provide advice – www.clackscab.org.uk/contact-us.
If you have any questions about this campaign and/or would like to get involved, please contact our Management Team Support Worker, Jennifer Kean on Jennifer.kean@clackscab.casonline.org.uk