New campaign to tackle debt
7th March 2022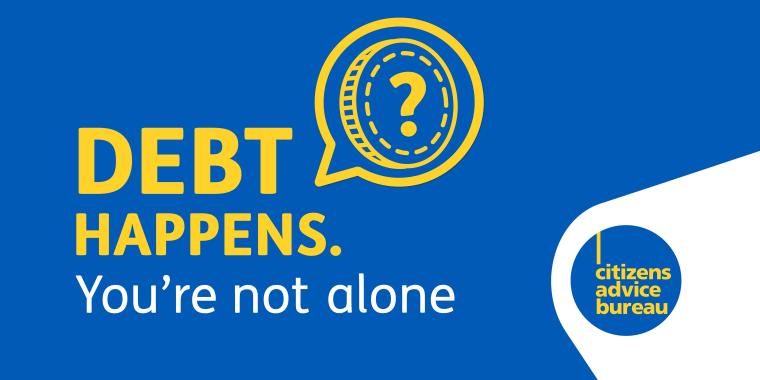 Clackmannanshire Citizens Advice Bureau is today (7 March) launching a new campaign aimed at helping local people who are struggling with debts.
The CAB has seen a dramatic rise in the number of people it has helped since the pandemic began with a steady switch in emphasis from employment issues to debt concerns in recent months.
The charity reports that a combination of rising interest rates, cuts to Universal Credit, high energy bills and overall increased costs of living has created a perfect storm for many local households, who have found it impossible to make ends meet without taking out loans. Others have found they are unable to re-pay existing debts.
As a result, the CAB is launching the local arm of the national Citizens Advice campaign, Debt Happens. You're Not Alone. The month-long campaign aims to persuade people to seek expert debt advice from the CAB.
Launching the campaign, Clackmannanshire CAB Managing Director, Jonny Miller, said:
"The combination of rising interest rates and energy bills and the Universal Credit cut has left many people with spiralling debts that they simply can't manage.
"Our campaign is all about reaching out to those people, telling them they're not alone, and that help is available.
"Debt puts immense strain on your mental health and relationships as well as your finances. We know it can be hard to seek help, and recognise there can be shame and stigma, but debt is nothing to be ashamed of. It happens. Our advisers are not judgemental or critical. We just want to help. It's what we do every day."
For free, confidential, impartial debt advice contact Clackmannanshire Citizens Advice Bureau on 01259 219404, 10am – 3pm, Monday to Friday. Or visit the campaign website cas.org.uk/debt-happens where you will find a Money Map tool to help you make the most of your money, boost your income and reduce bills to help meet the rising cost of living. There's also a council tax tool to tell you if you are entitled to a discount, reduction, or exemption.