Clacks CAB annual results
16th November 2022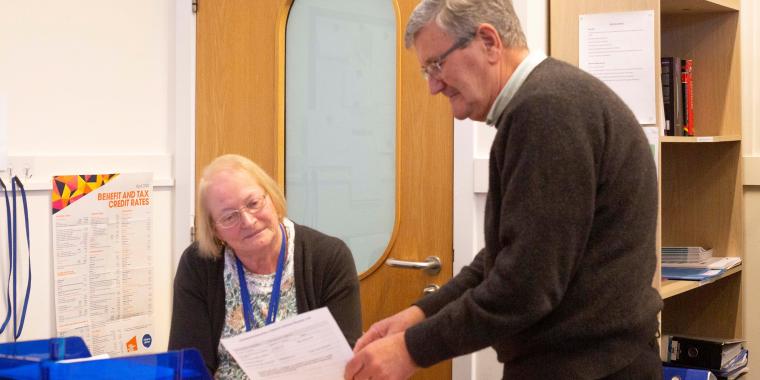 Clackmannanshire Citizens Advice Bureau's Annual General Meeting took place on 16th November with officials reporting a challenging transitional year bookended by the easing of some Covid-19 restrictions last autumn and the onslaught of the cost of living crisis this year.
Chairperson Alex Muirhead congratulated staff and volunteers for their drive and determination doing what can be a very difficult job, while managing director Jonny Miller highlighted that the team had helped more than 5,000 people with almost 33,000 issues.
During the year to 30 September 2022 the bureau had to adapt to rapidly changing circumstances with 28 staff and 18 volunteers coming to the aid of local people struggling with complex issues ranging from challenging DWP decisions to grappling with rising energy costs and managing debt. Overall, the team secured £2.17million in client financial gain (CFG) that would otherwise have gone unclaimed.
The bureau, which has been operating in Clackmannanshire since 1967, runs both a general advice service and multiple projects to meet specific needs in the local community. In the year to September, it ran 19 projects thanks to funding from Clackmannanshire Council, the Energy Saving Trust, The Henry Smith Charity and Ochil View Housing Association, among others.
Following the easing of Covid-19 restrictions, the bureau's Outreach service is returning in strength, delivering expert advice in the heart of local communities including Alloa, Alva, Clackmannan and Tullibody.
Alex Muirhead commented, "As we reflect on the past year, we have much to be proud of, especially against a backdrop of rapid change and uncertainty where we have continued to be a stable source of advice and reassurance."
Jonny Miller added, "While we have seen slight reduction in the number of clients, there has been a significant increase in the number of issues dealt with indicating the increasing complexity of the queries coming in."
Jonny Miller points to a challenging year ahead with the cost of living crisis resulting in a broader demographic presenting for help.
He said, "We have been seeing rising debt in middle-income households for a while and sadly this is likely to continue. Our challenge is how we respond to this demand. We have spent a significant part of the last year ensuring staff and volunteers are upskilled in areas of advice where demand is increasing. Even in these uncertain times, preventative and education work continues and we are contributing to tackling poverty through our membership of the Tacking Poverty Partnership."
Both men are unanimous in praising staff and volunteers, and thanking funders for support without which the level of assistance in Clackmannanshire would not be possible.
The bureau's Annual Report has been published here.